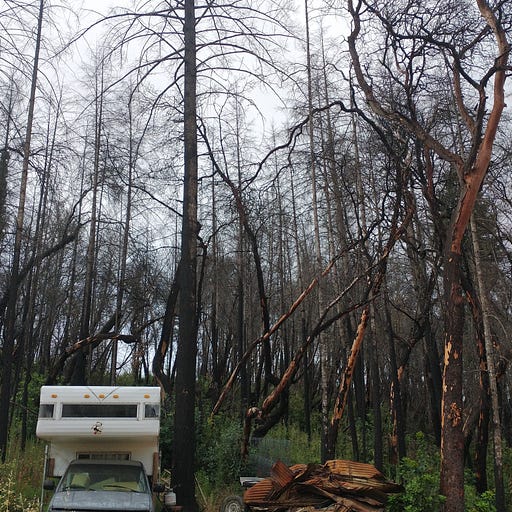 Jul 23 • 18M
Fireland / byebye baby
A nine month gestation, and the teachings of a scorched forest
What's this?
Rabbit Hole Buffet is a collection of content outside of the usual programming on Material Feels, an art materials podcast I produce each month. This is where I share my ever-changing obsessions, seasonal reflections and creative happenings. I voice this newsletter in one take (listen above) as a way to practice narration, and as an anti-perfectionism exercise.
I've been doing this for nine months, and I feel it is appropriate that this is my last one for a while, if not indefinitely. The gestation period is complete, and I've birthed something I'm proud of.
When I started writing RHB, I would be itching to add to the piece every week or so. I needed to write… about my feelings, my inspirations, my frustrations. I can sense that the project has now shifted to an obligation - feeling like I HAVE to do this thing. Now that I'm writing it, of course, I don't want to stop anymore - but I choose to remain grounded in the reality that I'm doing too many things.
This platform has allowed me to be all of my selves in "public" in a way my podcast Material Feels, for some reason, couldn't. Here, I share heartfelt reactions to various media, silly musings, personal details, angsty poetry, frustrations, revelations, and raunchy jokes. Rabbit Hole Buffet charted the birth and growth of my small business and clay classroom, Waveform Ceramics, as well as recurring heartbreak (though I didn't openly share too much about that, it's there in the writing).
I'm one of my selves on Material Feels (the narrative podcast I keep referencing), but I am often an edited, self-serious version, very focused on creating an ART MATERIALS PODCAST that will DO WELL in the AUDIO WORLD.
With Rabbit Hole Buffet, I'm just… wriggling around in my thoughts like a pig in mud, and I don't care if you see me absolutely covered head to toe in it. In fact, I'm beginning to feel comfortable with the fact that some people LIKE the mud that is my brain! This is who I am. *kissy face emoji*
I fabricated a conundrum that's been bothering me for months: how to blend Rabbit Hole Buffet & Material Feels!? How to less? What right thing do!? **SYSTEM MELT DOWN**
… What about, how to take a break from it all and eventually create something new that feeds my soul, connects me to community and helps others lean into their creative impulses?
Here are the past months in eight using my "Words of the Month":
psychedelic, decision

regeneration, pause

skitch, joy

sieve, …

fire.
I recently watched a documentary (or a 30 second Instagram reel, it's unclear) where a nice lady said the first thing highly ambitious people should do in the morning is think back on all their accomplishments. How far they've come. While we're striving to achieve, we likely have a storm of not-so-gentle self talk drizzling all over our lists, agendas and manifestos… I think she gives some damn good advice. Let's take a minute to appreciate the ecosystem we've already tended to, honoring (and maintaining) that which thrives in the background.
So I re-read all of Rabbit Hole Buffet this week while drafting this to remember my own life, and here are some things I'm proud of:
I put all my art up on Etsy last year and started selling artwork for the first time - not because someone told me I should, but because I wanted to.

I stopped drinking caffeine in an attempt to slow down.

I started writing creatively again: for instance, a screenplay I'm co-writing with a loved one, about a manic pinecone and a depressed dodo.

I learned that I need to pause even more and slow down in my life significantly. I started taking more intentional sensory breaks in between activities and that has really changed my life.

I learned about my body through physical therapy and acupuncture, started processing some repressed emotions and unlearning a lifelong pattern of people pleasing.

I practiced writing, running and therapy to understand myself and my life.

I started doing craft fairs and now have a whole booth setup with three distinct product lines I regularly make!

I got back into running and ran two races, with friends running with me and/or cheering me on.

I did spontaneous things for myself.

I made a firetruck for my nephew out of cardboard and he's been obsessed with it all year and that makes me happy.

I cut off all my hair.

I am unapologetically myself, on this platform, and more and more, IRL.
Do you have a few minutes to make your own list? Not gonna lie it feels pretttttyyy gooood.
Word of the Month
I didn't do one of these last month, I was too burnt out.
Ironically, this month's word, is…
fire
/ˈfī(ə)r/
noun
1. combustion or burning, in which substances combine chemically with oxygen from the air and typically give out bright light, heat, and smoke.
2. a burning sensation in the body.
verb
1. discharge a gun or other weapon; similar: trigger, set off.
2. dismiss (an employee) from a job.
3. bake or dry (pottery, bricks, etc.) in a kiln.
4. (of a nerve or muscle cell) generate an impulse or contraction.
5. (of an internal combustion engine) undergo ignition
What a fascinating word! It can mean to start or destroy, dismiss or – in the sense of ceramics – create.
A major influence on the Word of the Month was recent retreat I took myself on two weeks ago. The fourth of July is one of my least favorite holidays, for several reasons, but the most urgent being that I am already overstimulated, living in one of the most dense regions in the country. I dread the annual surround sound of loud noises and flashing lights. The days before the holiday, I was also nervous about a hard conversation, and thought I might need a few days of solitude afterwards.
I'm not in a place right now where I can drop a couple hundred bucks on an AirBnB for myself, and though camping solo is on my list, it didn't feel feasible.
And so, as one does when they are manifesting, I put exactly what I wanted out there. "You don't… know of anyone up north with like… land I could stay on… for free, do you?" I asked my friend Mimi.
"No, sorry," she said. I wasn't surprised. Then she remembered something. "…Oh wait, you know what?" She proceeded to talk about Noor, a friend she met through an online seminar about building alternative forms of community. Noor owns land an hour and a half away from the Bay; it had been burned in the fires two years ago, and he is looking for artists to join him in rebuilding. After a short phone call in which I confided some of my wildest dreams (building a mobile pottery studio), I had an address.
I spent two nights in a charred forest, sitting with silence and tender growth - it felt like I was submerged in a computer game built by my own brain. Every beetle, bug and bee felt like a personal acquaintance, because there were so few of them. Birds flocked to a green oasis in the center of the cleared and charred property, a garden Noor has been tending this summer.
I call the place Fireland in my mind (rhyming with Ireland).
It was a tender and solemn place. Walking on cracked dirt past lime green stalks of new plants, I could feel the roar of flames, the sweltering heat, and the terror.
But it was also a strangely peaceful place, like a graveyard, only it was a nursery, too. Everything felt precious and new.
Flames are life-taking, and life-making.
When I was a kid, we had candlesticks at the dinner table for family dinners. I loved being in charge of lighting them before we sat to eat. I light a candle at night sometimes while I lay in bed and watch the flame, holding it extra close to my face to smell and feel the heat. When I'm ready to go to sleep, I take a deep breath and exhale the flame out. We had a wood stove in the house growing up, and so building fires was a seasonal, daily experience. Crumpling up newspaper, collecting kindling in the yard, splitting logs and loading it all in. Late-night embers, with the lights on, were gray and black and fluttering… switch the lights off for bed and the stove glowed gold and orange in the dark.
I have a drawing that I look at sometimes when I'm trying to understand myself.
It's six figures that represent different parts of me. Sometimes they are at war, sometimes they collaborate. They are distinct personalities with different values and desires. The one with fire in their eyes is the one in love. They are perpetually inspired and energized: in love with projects and people and dreams and possibility. But sometimes those fiery eyes will consume not only that one figure, but all six personalities. The flames override the system. My selves become fuel and everything melts.
What other types of fires might that same personality be capable of? I have labeled that figure unruly as a forest fire, a dangerous being that exhausts my resources in painfully predictable cycles, burning myself for fuel and leaving my mind and heart as solemn as Fireland in three year intervals.
Can there be more to them? There were the candlesticks at dinner, there's that lone candle before bed, and the wood stove at home, once tended to every day.
Whatever the intentions of the match…. what if the land has been parched for too long? The brush overgrown and susceptible to rapid burns? Even if that flame tries to remain a comforting bedtime candle or a soft orb of light over a shared meal, the there is a risk that acres and acres of trees and creatures and plants will burn —
So now, there is quiet. It's a kind of peace, mixed with grief, and persistence, and slowness.
How can I continue create an internal and external ecosystem where this fire-figure is not a threat? What kind of fuel do they need for balance —seasonal rhythms of light and warmth?
Stepping away from this newsletter (though I do love making it), and taking a yearlong pause from the podcast (surprise!), and changing the way I feed myself and talk to myself (TEDIOUS but worth it)… these are attempts to address the drought I feel in my bones. I want my forest floor to be able to accommodate candlesticks and a wood stove.
For now, I hold a tender flame in my hands each night and pray for rain.
Obsessions
What, you thought I was going to leave you hanging!? I can't say goodbye without some artisanal obsessions for you to get in on.
The Princess Bride. The book, the movie. Genius. I put this movie on one night recently to keep me company while cooking, and as I was bumbling around the kitchen, I found myself muttering the script and seeing every frame in my mind. It was a family favorite in my household. The characters are lovable, and so much more lovable if you read the book, which is full of silly commentary, lush backstories and eccentric side notes. Basically an RBH kind of story.
Alanis Morrisette. I've always loved her, and she's even COOLER now! She just came out with a new album, The Storm Before The Calm. Rather than songs, I'd call them longform soundscapes. They are excellent for driving along windy roads, zoning out or zooming in. Above is a song I love by her that she wrote early on, That I Would Be Good. She wrote it while hiding in a closet feeling overstimulated and overwhelmed. HELLOW!? So relatable. The lyrics give me goosebumps and feel especially important to me right now:
That I would be good, even if I did nothing
That I would be good, even if I got the thumbs down
That I would be good if I got and stayed sick
That I would be good even if I gained ten pounds

That I would be fine even if I went bankrupt
That I would be good if I lost my hair and my youth
That I would be great if I was no longer queen
That I would be grand if I was not all knowing

That I would be loved even when I numb myself
That I would be good even when I am overwhelmed
That I would be loved even when I was fuming
That I would be good even if I was clingy

That I would be good even if I lost sanity
That I would be good
Whether with or without you
She's on tour right now and I'm tempted to drive a few hours and catch a show in early August. I love her music because she speaks so intensely from the heart. Her lyrics are badass and honest and vulnerable. I was reminded of this while watching a documentary about sensitive people recommended by my friend Mary. Alanis identifies as a highly sensitive person, which I think is pretty kewl because I took a quiz once and got 22 out of 24. Let's just say the results said, "If you got more than 14, you might be highly sensitive." WHOOPSIES!
Billie Eilish's new album, Happier Than Ever. Especially this song, Getting Older. My favorite kind of music involves a vocalist who feels like they are right beside you. When I listen to Billie Eilish I feel sad, but I also feel intimately connected to someone else. I feel like she's sitting with me with her head on my shoulder, or mine on hers, feeling our feelings together. I get this feeling listening to Sam Smith, Sampha, Alicia Keys and Joni Mitchel, too.
Two Exhibits:
Conversations with the Material World
in San Francisco
I'll be taking the next few months to ride the wave of running a small business while also focusing on finding more homes for the interactive installation Liz and I exhibited at Sound Scene in June. I am releasing a second soundscape through Material Feels this weekend - the one that accompanied Deborah Czeresko's glass sculpture. The piece did so well with museum visitors, I hope to continue to show it for longer periods of time in museums (or museum adjacent) environments. For now, here are two days where you can catch the installation if you're nearby in the San Francisco Bay Area:
Sunday Streets SF in SoMa, Sunday, August 21st. "Sunday Streets SF will open up the streets of SoMa for an afternoon of fun for the whole family. Taking place on Folsom St from 9th to Main St, neighbors and visitors alike will have over 1.5 miles of car-free streets to enjoy." Come see the work in action and enjoy the artsy fair!
Yerba Buena Night in Downtown San Francisco, October 8th. "Yerba Buena Night is one of San Francisco's biggest free evening performance and visual art events. For one night you'll hear incredible music, watch entertaining and fun performances, experience uplifting dance, and encounter many more surprises." The piece will be exhibited throughout the day and night. Come listen in and say hi <3
Thank you for listening to my voice, reading my thoughts and engaging with my work. Stay in touch on Insta (@materialfeels for audio art, @waveform.ceramics), or email me at catherinemonahon@gmail.com if you ever want to talk obsessions.
To discerning between fuel and flora,
To lighting candles and stoking the embers in your hearth - and no matter what fires are raging for us right now, "we will be good."
xox
C